Ghana Tourism Industry
The tourism industry is one of the most severely affected by the outbreak of the pandemic. According to the Tourism Worldwide Statistics and Facts, projected travel and tourism revenue from 2019 to 2020 declined by US$264.53 billion. As at 2018, the global hotel industry was valued at US$600.49 billion. It is estimated that the industry employs one (1) out every ten (10) persons.
Hotels in the Bono Region are no exception. The industry came to a virtual halt since COVID-19 cases were recorded in Ghana and consequential control measures included the closure of borders and ban on public gatherings like conferencing at hotels.
Eusbett Hotel and Tyco City Hotel are the biggest hospitality facilities in the Bono Region. Eusbett Hotel is a 3-Star hotel with 150 rooms and ten (10) conference centres. The hotel's occupancy, according to management, reduced drastically from 88 per cent to two (2) per cent.
This has resulted in the downsizing of personnel from 150 to 60. Occupancy at Tyco City on the other hand dropped significantly to between 2 and 5 per cent. The 2-Star hotel with 152 rooms has also reduced its 85-member workforce by 50 per cent.
The Chief Executive Officer (CEO) of Tyco City Hotel, Nana Kwame Aning, explained that hoteliers are prepared to adjust to the new normal to help revive the tourism industry.
"Sanitary items like veronica buckets and sanitisers will be stationed at vantage points, nose masks will be provided at guest rooms, temperatures of guests will be checked at entry points and receptions. Emergency contacts will be displayed at various places of our facilities for a swift response. We are also prepared to enforce the wearing of face mask around our facilities," he added.
In an effort to revive the ailing tourism industry, the Ghana Tourism Authority (GTA), regulatory body for the tourism industry, has recommended strict enforcement of health precautionary measures and safety protocols at the various hospitality facilities and tourism sites.
"Any tourism recovery strategy must incorporate strict supervision and adherence to COVID-19 safety protocols to protect tourists and guests. This will help to curb the spread of the virus and boost public confidence that facilities and tourism sites are safe places to visit," Acting GTA Manager in charge of Bono, Bono East and Ahafo Regions, Mr. Joseph Appiagyei, said.
Mr. Appiagyei urged hospitality managers to institute crisis management plan based on COVID-19 model outlined by the World Health Organization (WHO) to ensure that they are well equipped for emergencies.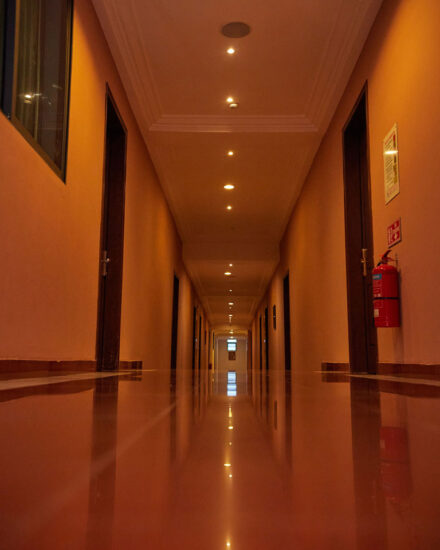 Safety Projections for Tourism Attraction Sites
Tourist attraction sites have also been hit hard by the pandemic. One of the major attraction sites in the region is the Kintampo Waterfalls. Since Ghana recorded its first case of COVID-19 on March 12, 2020, tourists visiting the waterfalls, located at the centre of Ghana has declined significantly. Statistics from the GTA indicate that between March 8 and March 15, a total number of 607 arrivals were recorded at the site but this figure declined to 152 between March 16 and March 22.
But the GTA Boss in charge of the region shared the view that effective implementation of the new Tourism Legislative Instrument (L.I) has what it takes to turn around the dwindled fortunes of attraction sites. The new Tourism L.I seek to, among others, encourage standardization by promoting good sanitation, safety and security for both visitors and workers at the sites.
"With the new L.I, the GTA will only issue a license to operators of attraction sites based on their compliance to requirements such as adherence to safety protocols. This and other factors will inform the classification of attraction sites by the regulator. We have started with public awareness campaign and sensitization to educate operators on the dos and don'ts, including safety protocols," Mr Appiagyei said.
By Edward Adjei Frimpong